Speakers
Cynthia "Cindy" Marten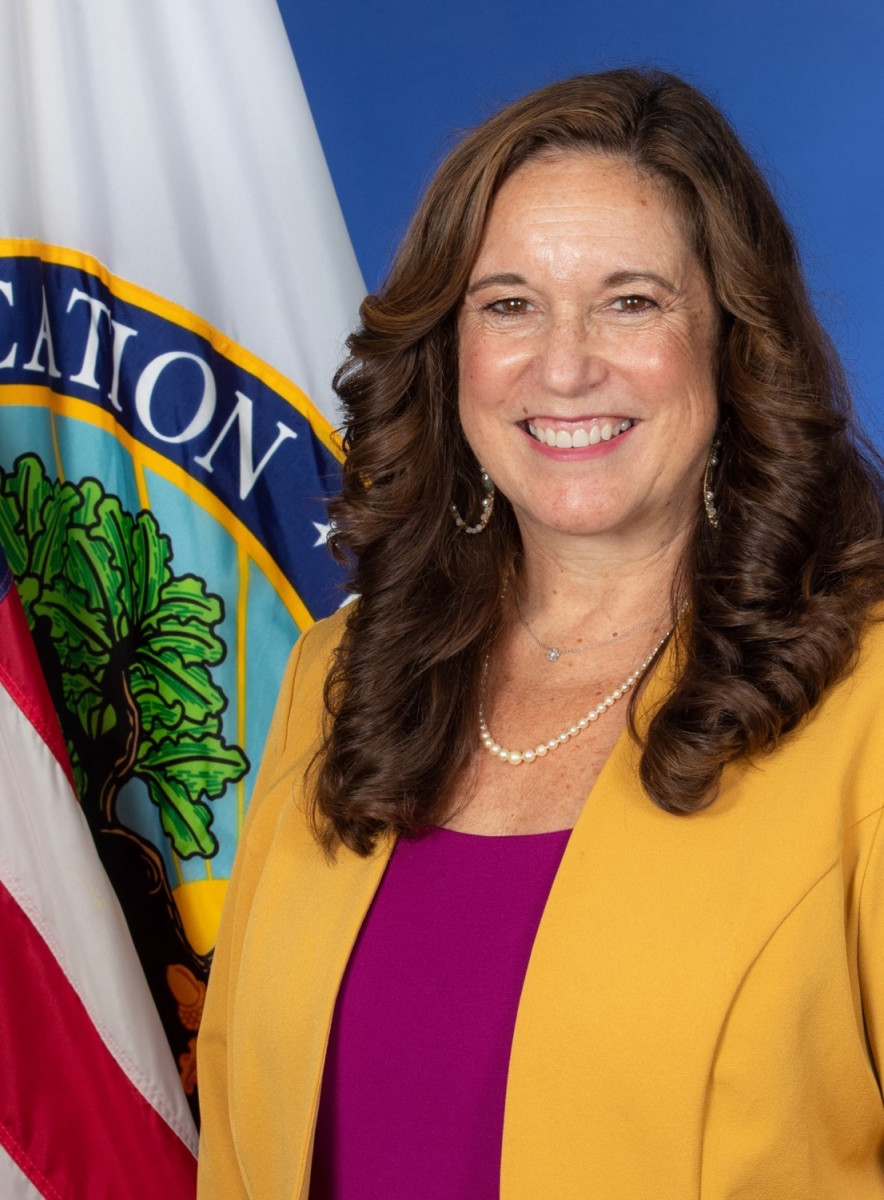 Cynthia "Cindy" Marten was confirmed by the U.S. Senate as the Deputy Secretary on May 11, 2021. Before joining ED, Marten served as the superintendent of the San Diego Unified School District since 2013. She has spent 32 years as an educator, holding various roles of increasing responsibility as a teacher, literacy specialist, vice principal, and principal. She is the author of "Word Crafting: Teaching Spelling, Grades K-6," which places an emphasis on literacy as a key to students' success.
As superintendent, she directed implementation of the district's Vision 2020 commitment to a meaningful graduation for all students, with the district achieving the highest graduation rate among big-city districts in California and the fastest reading growth of large urban districts nationwide, in 2019.
In addition to her emphasis on academics, Marten has been a champion for health and wellness, putting in place an award-winning wellness policy for staff and students. Under her leadership, San Diego Unified received Gold Recognition in the American Heart Association's Workplace
Health Achievement Index for efforts to support employee wellness, and multiple San Diego Unified schools received "America's Healthiest Schools" award from the Alliance for a Healthier Generation.
Prior to being appointed superintendent, for ten years Marten worked in one of San Diego's most ethnically diverse and economically challenged school communities, at Central Elementary School in City Heights. As a teacher, instructional leader, and later as principal, she established a commitment to educating the whole child through an emphasis on social and emotional learning and the arts, combined with academic rigor.
Lonnie G. Bunch III
Lonnie G. Bunch III is the 14th Secretary of the Smithsonian Institution
Lonnie G. Bunch III is the 14th Secretary of the Smithsonian. He assumed his position June 16, 2019. As Secretary, he oversees 21 museums, 21 libraries, the National Zoo, numerous research centers, and several education units and centers. Two new museums—the National Museum of the American Latino and the Smithsonian American Women's History Museum—are in development. Bunch was the founding director of the Smithsonian's National Museum of African American History and Culture. He chronicled the creation of the museum in his book, A Fool's Errand: Building the National Museum of African American History and Culture in the Age of Bush, Obama, and Trump, and is the first historian to be Secretary of the Institution. In 2021, he received France's highest award, The Legion of Honor.
Kahlil Greene
Kahlil Greene, also known as the "Gen-Z Historian", is a New York Times and Forbes Magazine recognized digital educator who has amassed a huge following on TikTok where he teaches Black History. An alum of the Boys & Girls Club of Greater Washington, Kahlil recently graduated from Yale where he served as the college's first-ever Black student body president. Kahlil can also be seen as a correspondent on Nickelodeon's reboot of NICK NEWS.
Joel Miranda
Joel Miranda- The Aspen Institute - Boston, Massachusetts Senior Advisor for Global Youth Opportunity Leadership, Global Opportunity Youth Network
Joel Miranda brings almost 20 years of experience supporting and leading efforts to create livelihood and economic opportunities for Opportunity Youth, engaging them in the creation and implementation of youth informed and youth-led solutions and the building of community assets at the local level, initially with communities in the U.S., and with global communities over the last 5 years.
Prior to joining GOYN full time, Joel led YouthBuild's global youth leadership and graduate work for 10 years. He worked with young people from multiple geographies to create YouthBuild's global youth voice strategy, now being implemented in 10 countries. He was an early architect of YouthBuild's individual, group, and community leadership development competencies, now implemented globally.
Since GOYN's inception, Joel has shared learnings from his years of experience and YouthBuild's work with OY, to engage young people in the shaping and launch of the GOYN Youth Voice Agenda including ongoing TA and capacity building to global and community partners and Youth Advisory Groups.
Panel Moderator- Jennifer Bateman
Jennifer Bateman-Senior Vice President, Youth Development.
Jennifer leads Boys & Girls Clubs of America's national program strategy, aimed at strengthening the impact of Club programming and experiences to advance positive future outcomes for kids and teens. She has 22 years of youth development experience and most recently led and developed Boys & Girls Clubs trauma-informed strategy supporting the holistic needs of youth around the country. Prior to joining Boys & Girls Clubs of America, Jennifer consulted with state agencies and youth-serving nonprofits to develop statewide out-of-school time standards and support quality improvement. She earned her Master's in Education in Child Development & Psychology from Harvard University and her Ph.D. in Developmental Psychology from University of Pennsylvania.
Michael Sack
Michael Sack is a visiting senior fellow at JFF, where he works on several initiatives aimed at improving pathways to college and career success for opportunity youth, including two social innovation fund projects (Opportunity Works and Learn and Earn to Achieve Potential), the National Equity Partners project designed to increase registered apprenticeship opportunities for underserved populations, and a Juvenile Justice Reentry Program through the DOE's Office of Career, Technical and Adult Education (OCTAE).
Lamah Bility
Lamah is an immigrant from Liberia, migrating to the United States at the age of 10. Lamah Bility is an entrepreneur, community leader, and the Co-founder of Didomi, a reusable water bottle company that provides clean, safe water to those that need it most. He is also the Club Alumni & Youth Advocacy Manager at the Boys & Girls Clubs of the Twin Cities.
Lamah joined the Lift Up team as an Impact Advisor in 2023. His work is an integral part of keeping the focus on sustainable change, contextualization of local impact projects in our communities, and execution of support.
Dr. Debra Waldron, MD, MPH, FAAP American Academy of Pediatrics, Senior Vice President, Healthy Resilient Children, Youth and Families
Senior Physician Executive with expertise in population health, health policy, and integrated health systems. Research focused on design and implementation of models of care that address child and family experiences and their impact on health quality outcomes. Education and advocacy profile focused on population health improvement through consumer/family engagement, health determinant assessment, community and provider partnerships, and clinical innovation, within the context of evolving health systems.
Gigi – Boys & Girls Clubs of Sarasota and DeSoto Counties
Ahsha- 2022 National Military Youth of the Year